Welcome to the Society of the Faith
The main activities of the Society are –
making reasonably-priced accommodation available in Faith House for organisations and companies which promote the Christian faith and the Anglican Communion, as well as for other charitable organisations;
promoting the revival and reissue of Faith Press publications and sponsoring new publications;
conserving an archive of Faith-Craft drawings and Faith Press publications;
building a database of known Faith-Craft works;
giving grants to further our charitable aims;
administering the Hoare Trust, which grant-aids the conservation and provision of ecclesiastical needlework :
administering the Liddon fund, a restricted fund which finances the annual Liddon Lecture and grants to young people for advanced theological study.
For more information about recent activities see the What's New tab above.
---
Latest New Publication
The Society of the Faith is delighted to announce the publication of 'Martin Travers H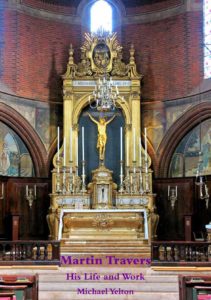 is Life and Work' written by Michael Yelton and published by Spire Books (ISBN 978-1-904965-52-7). 
M artin Travers, stained glass painter and church furnisher, was born in Margate, Kent, on 19 February 1886. He died on 25 July 1948 in his studio in Colet Gardens, Barons Court, West London. At the time of his unexpected demise he had a well regarded reputation. His life was in fact full of paradoxes and many myths have grown up around him, which closer scrutiny of the available evidence makes clear are almost all unsubstantiated.
This book provides an objective and thoroughly researched account of Travers and his output. In the process it establishes Travers as an important designer and architect and as a major contributor to the art and design produced within the Anglo-Catholic Movement in the first half of the twentieth century.
To purchase a copy please contact your local bookshop or order directly from Spire Books, South Barn, Old Standlynch Farm, Downton, Salisbury SP5 3QR Cheques should be made payable to J Elliott for £55.00 including p&p. Telephone enquiries to 01722 711665 and e-mail to jpelliott@btinternet.com.
———————————————————————————————
Enquiries about membership of the Society are welcome, especially from laity and clergy who are interested in Church arts and crafts.  Please see the section on Membership.
—————————————————————————————————————————————
The Society is administered by trustees, known as the Court of Fellows, assisted by the Secretary and Treasurer.
Dates for 2017 are –
Tuesday 11 July – Eucharist and AGM followed by meeting of the Court.
The dates of further meetings of the Court wil be decided at the Court Meeting after the AGM.
All meetings are in the Douglas Room at Faith House.