John and Charles Douglas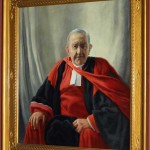 The Revd Canon John Douglas.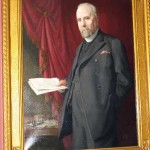 The Rev'd Charles Douglas.
You are here – Home – History of the Society – John and Charles Douglas
John and Charles were the sons of John Douglas and Elizabeth Arthur of Cowes.
John Albert Douglas
After schooling at Chatham House and Dulwich College he went to the University of London where he graduated with a 1st class BA in 1890.  Ordained Deacon in 1894 and Priest in 1895 he served as curate at Newark from 1984-1897, in Penge from 1877-1901 and at St Stephen, Lewisham from 1901–1904.
In 1904 he went to Constantinople and was Acting Chaplain the British Embassy until his return to London in 1906. In 1907 he was Curate at St Benet and All Saints, Kentish Town, and then in 1909 became Vicar of St Luke, Camberwell, a post he held until 1933. In that year he moved to be Rector of St Michael Paternoster Royal and St Martin Vintry with All Hallows Great and Less were he stayed until 1953.
During the 1st World War he was Chaplain of the First Surrey Rifles Territorial Army and served as a lecturer in France.
In 1906 he helped to found Anglican and Eastern Churches Association and Society of St Willibrord. In 1925 both brothers helped to organise a great service in Westminster Abbey on 29 June to commemorate the Council of Nicaea. Representatives of all but one of the Eastern Orthodox Churches came, along with those of many other Churches. In the evening, there was a banquet at the Holborn Restaurant, presided over by Lord Selborne.  The following year, the Nicaean Club was founded and for many years John Douglas played an important part in it. The Society of the Faith helped to fund it by means of grants. John Douglas also organised a series of ecumenical lectures at St Mary le Strand in London.
His interest in the Eastern Church showed in his role as the Librarian of Archbishop's Eastern Committee from 1922-36 and in 1935 he became General Secretary, Church of England Council for Foreign Relations, a post he held until 1945. He attended the Stockholm (1925), Lausanne (1927), and of Oxford and Edinburgh (1937) Oecumenical Conferences. An illustrated booklet he wrote in 1915 on Russian Orthodox worship can be found here.
He was an active member of the University of London, a Member of the Senate from 1907, Deputy Vice-Chancellor from 1931 and Chairman of Convocation and Member of the University Court from 1939.
And of course in 1905 he, along with his brother, founded the Society of the Faith.
He died in 1956.
Charles Edward Douglas
Charles went to Cambridge from where he graduated in 1893 with a BA from St John's Collage . He worked as an Assistant Master at Worksop College from the College's opening in 1895 to 1900, when he moved to Bedford Grammar School and then in 1902 to Dulwich College which he left in 1904. From 1905 he was the first Bursar of the Society of the Faith and in 1913 he became Curate of St Luke, Camberwell, where his brother was Vicar.  He held both posts until his death in 1955.
The paintings
Both paintings belong to the Society and hang in the Douglas Room in Faith House.  They were both painted by William Lawson around . The frames were most likely carved by William Wheeler.