Object of the season
Another window this time, details and illustrations kindly provided by Andy Parkes. The location is the Abbey Church of Saint Peter and Saint Paul, Shrewsbury. First we have a copy of the design, done by Terence Randall and dated 1953.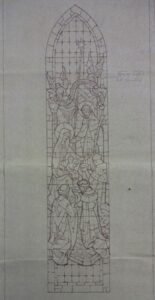 This was used when the Faculty was applied for. We have a copy of this, but alas for copyright reasons cannot reproduce it. However it confirms the Faculty was granted on the petition of the Reverend Langford Astling Wilkinson (the Incumbent) and William Walter John Barber (Draper) and William David Caswell (Process Worker), being the Church Wardens. The inscription was "To the Glory of God and in loved & happy memory of Walter Henry Lee, 23rd March 1855 – 19th December 1903 and Isabelle Lee, 1st July 1864 – 6th January (the Epiphany) 1953 from their children.". On the original the date comes after the month, a correction in red ink has moved the dates to before the month – was this the Diocesan preference? The work cost £225 (£4,500 in 2021 values) and replaced a plain glass window.
And then we have the window showing the Three Kings presenting their gifts to the Christ Child, his Blessed Mother and St Joseph.