Faith House
You are here – Home –  Faith House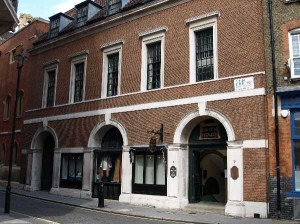 Faith House, Tufton Street
Faith House, designed in 1898 by the eminent Edwardian architect Sir Edwin Lutyens (1869-1944) as the Church Institute for St John's, Smith Square and built in 1905-07, was subsequently taken over by the Society of the Faith in 1935 under a 999 year lease. The church of St John's, Smith Square was bombed in WW2 and, after restoration, became a concert hall.
Sir Nikolaus Pevsner describes Lutyens as –
                   "… dipping a toe in Neo-Georgian or perhaps Neo-Serlian waters."
(Buildings of England, London 6: Westminster).
The building is built of dark red brick with stone dressings and a pantile roof. There is a basement, a ground floor and two upper floors, the topmost being a dormered attic.
In appearance the building is a version of an Italianate palazzo, reinterpreted in a Georgian style. The ground floor has a stone plinth with three large stone archivolt arched openings with flanking panelled piers. The outer openings are doorways, the central one is now a display window. A stone band marks the first floor with five tall windows with recessed glazing bar sashes in stone architraves with cornices, and a thinner stone bar marking the sills. The roof is edged with a prominent moulded eaves cornice. The upper floor is illuminated by large glazing bar sashed dormers, the central one pedimented.
Inside, the basement is occupied by Watts and Co. The main ground floor room (actually accessed by a stairway and about ten feet above pavement level) is an aisled, church-like interior with a groin-vaulted central area. The primary illumination comes from 'clerestory' windows in the central area and windows to light wells at the rear of the building. The first floor houses the Society's Douglas Room and our own office. The second floor now houses various office and workshop spaces.
The building was listed as Grade II in 1987.