Faith Craft Symposium report
You are here – Home – Faith Craft – Faith Craft Symposium
 Saturday 6 April 2013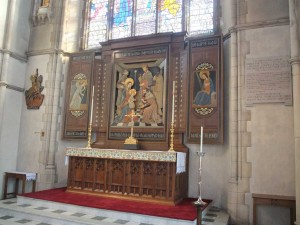 The High Altar at St George's Headstone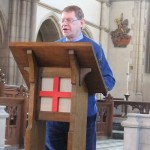 Dr Julian Littern
The Society of the Faith's symposium on Faith Craft was held in the splendid setting of St George's Church, Headstone, North London, where there are several examples of Faith Craft work visible. The Vicar of St George's, Fr Stephen Keeble, and Dr Julian Litten, Principal of the Society of the Faith, welcomed us to the  symposium.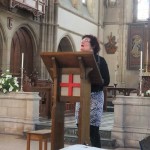 The first paper, Liturgical Space: Anglican Church Architecture 1915-1965, was delivered Elain Harwood (English Heritage), being a whistle-stop tour through the developments in English ecclesiastical architecture. After the First World War much energy went into building war memorials and, in some cases, associated churches, but the 1930's economic depression led to a fall off in new building and after the Second World War it took a while for new building to resume. War reconstruction grants produced some new work, but by the late 1950's congregations were smaller and there was less money about. Despite this there was much innovative and modernist work, some of which has stood the test of time better than others.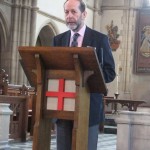 Michael Yelton
 Michael Yelton (author) then spoke on Anglican Fixture and Fittings 1915-1965. More conservative views prevailed until the 1950's, succeeded by what he described as 'chaotic eclecticism'. The work of Faith Craft was discussed in the context of these developments.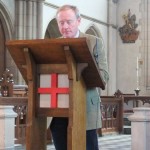 Dr James Bettley
Dr James Bettley FSA (architectural historian) spoke on the church architect Laurence King and his connection with Faith Craft after the Second World War, homing-in on the prolific church work he did in the county of Essex. Dr Bettley described King both as a devout churchman (who knew what a church was "for") and an ingenious interior designer, though he felt that King's work was much under appreciated and had been subject to undue criticism.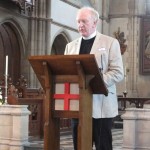 Father Stephen Keeble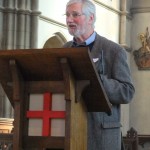 Mr Dick Onions
Finally, Father Keeble then discussed the Faith Craft work in St George's, which was all that emanated from a much larger scheme, and discussed the recent finding and restoration of the carved wooden Stations of the Cross by Ian Howgate. As part of his talk Fr Keeble invited Dick Onions (artist) to give his memories of working with William Wheeler, a woodcarver who was Art Director for Faith Craft between 1932 and 1939 and how, after war service, he became an instructor in carving at the City and Guilds of London Art School in Kennington, where Mr Onions knew him.
Dr Litten then chaired a plenary session for questions to the speakers.
St George's parishioners provided excellent refreshments, and the Society is grateful to them and Father Keeble for their hospitality.  In 2016 the Society published the proceedings.
Report and photographs by Andrew Hobley, Member of the Court of Fellows